Written on November 17, 2015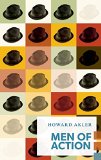 Men of Action (Exploded Views) by Howard Akler (Coach House Books, 2015)
Book description from the publisher:
The problem of consciousness may just be a semantic one. The brain absorbs a sea of sensory input, the tiniest fraction of which reaches the shore of our awareness. We pay attention to what is most novel, most necessary at the time. At its most reductive, the word consciousness refers to the synchronized firing of neurons across multiple areas of the brain, the mental experience of attending.

But should consciousness be summed up simply by its subsconscious mechanism? I would prefer a more imaginative answer.

After his father undergoes brain surgery and slips into a coma, Howard Akler begins to reflect on the complicated texture of consciousness. During the long months that follow, Akler confronts the unknowable nature of another person's life, as well as the struggles within his own unpredictable mind. With echoes of Paul Auster's The Invention of Solitude and Philip Roth's Patrimony, Men of Action treads the line between memoir and meditation, and is at once elegiac, spare and profoundly intimate.