Written on December 22, 2014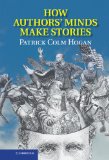 How Authors' Minds Make Stories by Patrick Colm Hogan (Cambridge University Press, 2014)
(kindle ed.), (amazon.co.uk), (UK kindle ed.)
Book description from the publisher:
This book explores how the creations of great authors result from the same operations as our everyday counterfactual and hypothetical imaginations, which cognitive scientists refer to as "simulations." Drawing on detailed literary analyses as well as recent research in neuroscience and related fields, Patrick Colm Hogan develops a rigorous theory of the principles governing simulation that goes beyond any existing framework. He examines the functions and mechanisms of narrative imagination, with particular attention to the role of theory of mind, and relates this analysis to narrative universals. In the course of this theoretical discussion, Hogan explores works by Austen, Faulkner, Shakespeare, Racine, Brecht, Kafka, and Calvino. He pays particular attention to the principles and parameters defining an author's narrative idiolect, examining the cognitive and emotional continuities that span an individual author's body of work.
Google Books preview:
Another newly issued paperback by the same author: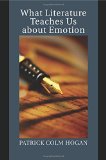 What Literature Teaches Us about Emotion by Patrick Colm Hogan (Cambridge University Press, 2014)
(kindle ed.), (amazon.co.uk), (UK kindle ed.)
Book description from the publisher:
Literature provides us with otherwise unavailable insights into the ways emotions are produced, experienced, and enacted in human social life. It is particularly valuable because it deepens our comprehension of the mutual relations between emotional response and ethical judgment. These are the central claims of Hogan's study, which carefully examines a range of highly esteemed literary works in the context of current neurobiological, psychological, sociological, and other empirical research. In this work, he explains the value of literary study for a cognitive science of emotion and outlines the emotional organization of the human mind. He explores the emotions of romantic love, grief, mirth, guilt, shame, jealousy, attachment, compassion, and pity – in each case drawing on one work by Shakespeare and one or more works by writers from different historical periods or different cultural backgrounds, such as the eleventh-century Chinese poet Li Ch'ing-Chao and the contemporary Nigerian playwright Wole Soyinka.
Google Books preview: