Written on March 5, 2008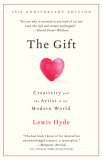 Lewis Hyde, author of The Gift: Creativity and the Artist in the Modern World (Vintage), is scheduled to appear tomorrow (Mar. 6) on Bookworm, KCRW (Santa Monica, CA), 2:30-3 pm Pacific time. The program should also be available later as a podcast.
"The gift must always move" is a motto I remember from reading the book many years ago.



Hyde also wrote Trickster Makes This World: Mischief, Myth, and Art