Written on August 6, 2009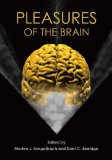 Pleasures of the Brain (Series in Affective Science) ed. by Morten L. Kringelbach and Kent C. Berridge (Oxford University Press, 2009)
Product description from the publisher:
Pleasure is fundamental to well-being and the quality of life, but until recently, was barely explored by science. Current research on pleasure has brought about ground-breaking developments on several fronts, and new data on pleasure and the brain have begun to converge from many disparate fields. The time is ripe to present these important findings in a single volume, and so Morten Kringelbach and Kent Berridge have brought together the leading researchers to provides a comprehensive review of our current scientific understanding of pleasure. The authors present their latest neuroscientific research into pleasure, describing studies on the brain's role in pleasure and reward in animals and humans, including brain mechanisms, neuroimaging data, and psychological analyses, as well as how their findings have been applied to clinical problems, such as depression and other disorders of hedonic well-being. To clarify the differences between their views, the researchers also provide short answers to a set of fundamental questions about pleasure and its relation to the brain. This book is intended to serve as both a starting point for readers new to the field, and as a reference for more experienced graduate students and scientists from fields such as neuroscience, psychology, psychiatry, neurology, and neurosurgery.
See also: Morten Kringelbach's website
Kent Berridge's website at U of Michigan
Morten Kringelback's previous book: The Pleasure Center: Trust Your Animal Instincts (Oxford University Press, 2008)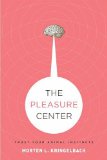 Product description from the publisher:
Many people believe that pleasure and desire are obstacles to reasonable and intelligent behavior. In The Pleasure Center, Morten Kringelbach reveals that what we desire, what pleases us–in fact, our most base, animalistic tendencies–are actually very important sources of information. They motivate us for a good reason. And understanding that reason, taking that reason into account, and harnessing and directing that reason, can make us much more rational and effective people. In exploring the many facets of pleasure, desire and emotion, Kringelbach takes us through the whole spectrum of human experience, such as how emotion fuels our interest in things, allowing us to pay attention and learn. He investigates the reward systems of the brain and sheds light on some of the most interesting new discoveries about pleasure and desire. Kringelbach concludes that if we understand and accept how pleasure and desire arise in the complex interaction between the brain's activity and our own experiences, we can discover what helps us enjoy life, enabling us to make better decisions and, ultimately, lead happier lives.