May 25, 2014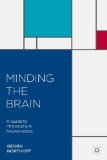 Minding the Brain: A Guide to Philosophy and Neuroscience by Georg Northoff (Palgrave Macmillan, 2014)
Book description from the publisher:
This book explores how the relationship between philosophy and the brain can inform neuroscience, the mind-brain problem and debates about consciousness. Written in a lively style with extensive pedagogy to explain complex concepts, this is interesting reading for students and researchers of psychology, neuroscience and philosophy.

Table of Contents:
Introduction
PART I: MIND AND BRAIN – FROM PHILOSOPHY THROUGH NEUROSCIENCE TO NEUROPHILOSOPHY
1. Philosophy and the Mind – Philosophy of Mind and Phenomenology
2. Philosophy and Science – Naturalism
3. Mind, Brain and Science – Psychology and Neuroscience
4. Brain and Philosophy – Neurophilosophy
PART II: MIND-BRAIN PROBLEM – FROM PHILOSOPHY OF MIND TO PHILOSOPHY OF BRAIN
5. Mental Approaches to the Mind-brain Problem
6. Physical and Functional Approaches to the Mind-brain Problem
7. Non-mental and Non-physical Approaches to the Mind-brain Problem
8. Brain-based Approaches to the Mind-brain Problem
PART III: PHILOSOPHY OF PSYCHOLOGY AND NEUROSCIENCE – FROM EXPLANATION OF MIND TO EXPLANATION OF BRAIN
9. Philosophy of Psychology – Personal Versus Subpersonal Levels of Explanation
10. Philosophy of Psychology – Mind and Meaning
11. Philosophy of Neuroscience – Explanations, Concepts, and Observer in Neuroscience
12. Philosophy of Brain – Characterization of the Brain
PART IV: NEUROPHILOSOPHY OF CONSCIOUSNESS – FROM MIND TO CONSCIOUSNESS
13. Arguments against the Reduction of Consciousness to the Brain
14. Neural Correlates of Consciousness (NCC)
15. Neural Predispositions of Consciousness (NPC)
16. Conceptual, Phenomenal, and Methodological Issues in the Investigation of Consciousness
PART V: NEUROPHILOSOPHY OF SELF – FROM CONSCIOUSNESS TO SELF
17. Brain and Self
18. Brain and Self-consciousness
19. Abnormalities of Self and Brain in Psychiatric Disorders
20. Brain and Intersubjectivity
Epilogue: Is the Brain a Door Opener?
See also: Author's website
Comments (0) - consciousness,new books,philosophy of mind,self